I am text block. Click edit button to change this text
We sell used / salvaged major brand motorcycle parts from Honda, Kawasaki, Yamaha, Suzuki, Harley Davidson, and KTM. We currently have many used parts bikes in stock as well as many loose motorcycle parts left over from past bikes that have already been recycled. We specialize in street bike, dirt bike, and atv used salvaged parts. If you are looking for used motorcycle parts you are in the right place. We are located outside of Conway SC, 20 miles from Myrtle Beach. Check back often because you never know what parts bikes we might get in the shop.  We buy salvaged bikes from individuals in the surrounding area from the eastern and central parts of North and South Carolina.
A paypal button is at the top of the page to pay for parts and we also take credit cards over the phone.
843 504 2495 or mrsuzuki380@yahoo.com
We have just purchased a huge inventory of vintage 1969 – 1976 Honda CB 750 parts as well many other makes and models. Tons of wheels and trim parts.
All Popular Size Inner Tubes In Stock only $15.00 sizes 10 inchs through 21Inches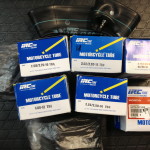 NEW CHROME EMGO POD AIR FILTERS IN STOCK $10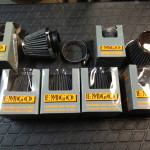 LOTS OF USED HARDWARE IN STOCK $.50 - $10