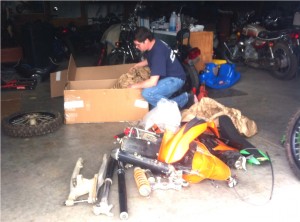 UPDATE !!!!! Gift buying time is upon us for the upcoming Christmas season. Dads are fixing up bikes for their kids, ladies are buying trim for their guys ride, and everyone is pondering getting started on that next project. Pass on the Holiday Code # "REASON FOR THE SEASON" for a 10% discount on parts  quoted. Ends 12/31/17
Myrtle Beach Motor Sports Salvage was started in 2008 to sell salvage bike used motorcycle parts. I started this web site on the companies 3rd anniversary to display parts for sale and donor bikes in a easy to view location. My dad is a carrier factory trained motorcycle mechanic with over 30 years experience in the field. So I pretty much grew up in a bike shop as a kid.
We sell used / salvaged major brand motorcycle parts from Honda, Kawasaki, Yamaha, Suzuki, Harley Davidson, and KTM. We currently have 

113

 parts

bikes in stock

as well as many loose motorcycle parts left over from past bikes that have already been recycled. We specialize in street bike, dirt bike, and atv used salvaged parts. We are located outside of Conway SC, 20 miles from Myrtle Beach. Check back often because you never know what parts bikes we might get in the shop.  We buy salvaged bikes from individuals in the surrounding area from the eastern and central parts of North and South Carolina.
We try to describe the parts to the best of our ability whether the parts are new, used, salvageable, or just plain junk. Whether you are looking for a motorcycle salvage yard, bike junk yard,  motorcycle recycling / recycler,  motorsport / motorsports salvage yard, or motorcycle dismantling / dismantler shop, we have parts to serve the Myrtle Beach , South Carolina area and abroad.
 We try to make buying parts here easy and as stream lined as possible. With thousands of used bike parts in stock it is hard for us to list each individual part in a click and buy format like on eb@y.  We have a eb@y store and sell many items there so feel free to look us up.
A paypal button is at the top of the page to pay for parts and we also take credit cards over the phone.
843 504 2495 or mrsuzuki380@yahoo.com
Here is a pic of what is left of the old bone yard.
( no worries most of ours are stored indoors)